Which side are you on? Gerd Leonhard's provocative new manifesto
Are you ready for the greatest changes in recent human history? Futurism meets humanism in Gerd Leonhard's ground-breaking new work of critical observation, discussing the multiple Megashifts that will radically alter not just our society and economy but our values and our biology. Wherever you stand on the scale between technomania and nostalgia for a lost world, this is a book to challenge, provoke, warn and inspire.
---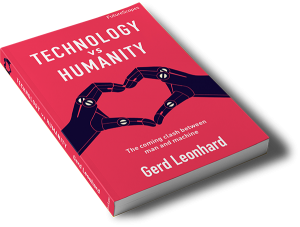 From two decades of traveling the world and speaking about future scenarios across many industries and cultures, Futurist Gerd Leonhard has acquired unique foresights and intuition into where the world is rapidly going. As technology develops at an exponential pace and redefines the way we work, live and even think, he explores the myriad unasked questions we should have been posing some time ago. If you are a business leader, an institutional decision maker, a professional in any industry or simply a curious and aware individual, this book challenges and inspires you to take stock and rethink your humanity in the post-human world.
---
Technology vs. Humanity is a last-minute wake up call to take part in the most important conversation humanity may ever have. Will we blindly outsource and abdicate big chunks of our lives to the global technology companies – or will we take back our autonomy and demand a sustainable balance between technology and humanity? By supplying a Socratic and humanistic critique of the Megashifts currently recasting our world, Gerd Leonhard provides the prologue for this great debate.
  Now is the time to join the dots between big data and digital ethics, to start discussing the moral framework required to steer the evolution of digital life – and to finally articulate the difference between our unique humanity and the rapidly evolving robotic versions. In 1949 George Orwell released Nineteen Eighty-Four – offering us a stark warning of a world dominated by technology and those who own and control it. Nearly seventy years after its publication, Gerd Leonhard investigates how we preserve our humanity in a world that is rapidly beginning to resemble that science fiction.